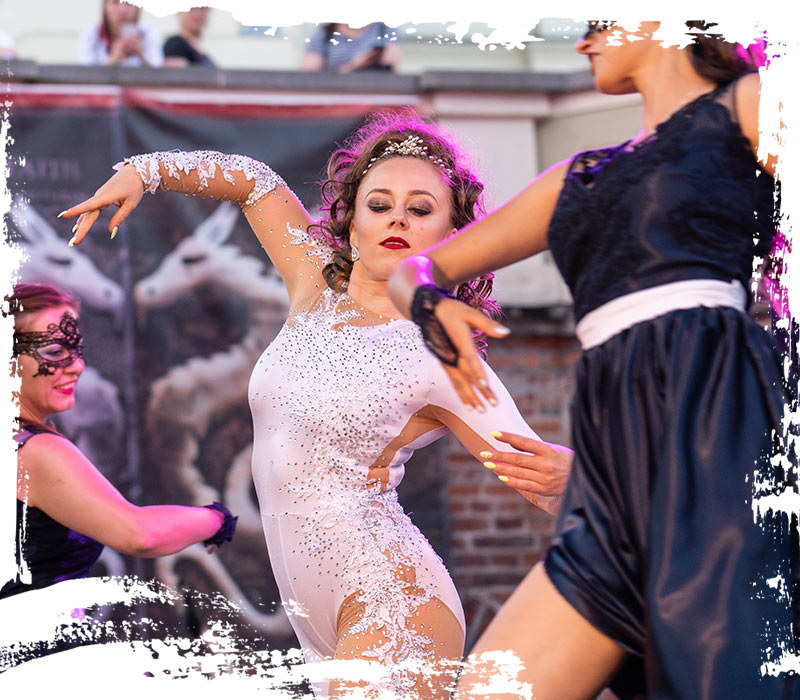 dance and acrobatic performance.
The spectacle is an original in its form fusion of dance and air acrobatics. The artists are accompanied by extracts from the extraordinary soundtrack of The Hobbit, giving the whole performance a fairy-tale atmosphere. The audience is taken to a land full of magic, charm and ethereal beauty.
The Journey is an original and unique choreographic project, a story of two elements: dance and acrobatics. And although the acrobat is the central figure here, her actions are above all an element of a harmonious whole.
The artists interact with each other, performing dance sequences and propelling the great butterfly of the charwoman.
The show will perfectly suit as an elegant and unique attraction at prestigious cultural, business and media events.
The project was realized in cooperation with Flying Stars Wrocław and Daria Lasota
Duration of the show: 10 min.
Choreography: Emilka Zawalińska, Daria Lasota
Music: "I see fire" Ed Sheeran
Artistic line-up: 4 dancers and an acrobat
● wymiary sceniczne: 10 m głębokość x 15 m szerokość x 6 m wysokość
● wydzielona przestrzeń o równej nawierzchni (podest sceniczny nie jest wymagany)
● nagłośnienie do odtworzenia podkładu muzycznego
● oświetlenie wymagane tylko przy pokazach realizowanych po zmroku, możliwa pełna reżyseria świateł.